At 15 weeks, Declan had his 4 month check-up.
He is a monster!!
He weighs 16.5 lbs (85th percentile) and is 25 in long (70th percentile). His head is in the 92nd percentile!!
He is still not rolling over, but the Dr said not to be concerned because he's got a lot of extra weight to move! Haha!!
We got the go-ahead to start solid foods and juice.
I immediately went to Williams Sonoma and bought their baby food maker - I love the idea of making his food.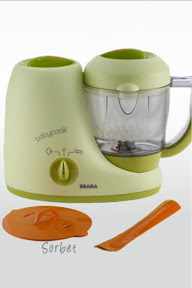 Isn't it precious!!
We tried cereal last week, and Decs was not a fan. So I made carrots last night, and he LOVED them!! He ate way more than we thought he would!!
It is so much fun feeding him real food!!
- Posted using BlogPress from my iPhone